Mexico Culinary Expedition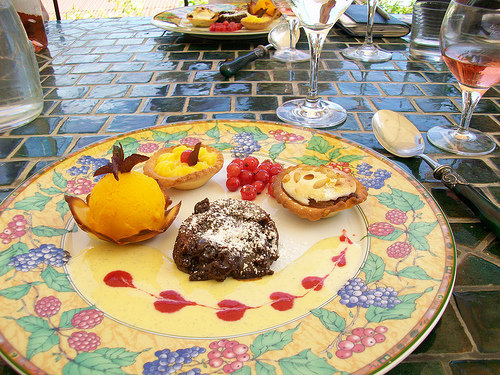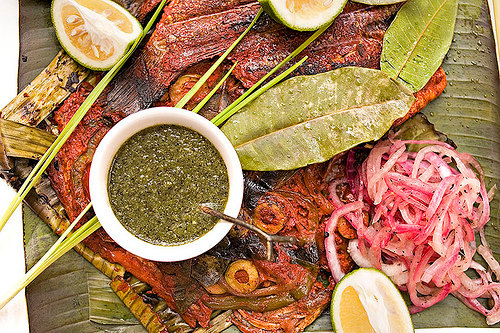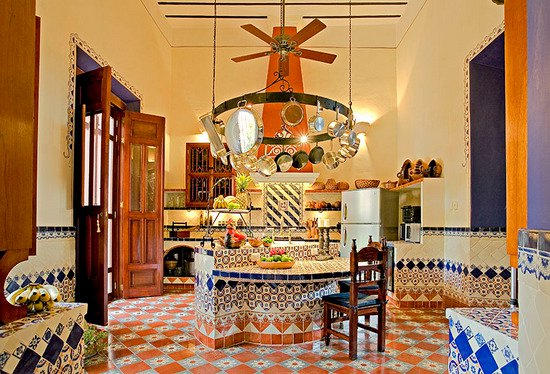 Featured widely in magazines such as Condé Nast Traveler, Travel and leisure and gourmet, and in broadcast television, Chef David's cooking school became a "must do" destination in Yucatan along with Mayan ruins and natural wonders. The setting is a magnificent colonial mansion in downtown Mérida and the entrance door outside doesn't reveal the magnificence inside.
French, Spanish and Dutch influences make the Yucatan cuisine special and surprising for those who expect traditional Mexican food. Dutch traders left behind the Edam and the Gouda. The sizable Lebanese population brought the Kibbe. There are even baguettes, used to make a Yucatean specialty sandwich.
Mérida is located in the northwest part of the state. It has been the cultural capital of the entire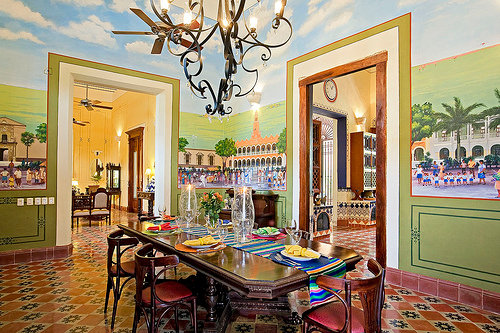 peninsula. It is a town steeped in colonial history, with narrow streets and broad central plazas.
Located in the heart of charming colonial city center, your home for the week will be hotel Hacienda Mérida a boutique hotel, named one of the "best new hotels in the world" in the Condé Nast traveler hot list 2008.
Itinerary
Day 1 – arrival and transfer from Merida airport to the hotel.

Day 2 – transfer from your hotel to the cooking school. Chef David will invite you into his kitchen where he will present an overview of Yucatán's unique ingredients. Follow him on a tour of Mérida's colorful central market, and then join him for lunch at a restaurant featuring the finest regional cuisine. Chef Sterling will help you navigate the menu as you sample several Yucatecan specialties. Evening dinner at a local restaurant.

Day 3 - A city tour of this magnificent colonial city will help you get your bearings. Stroll around Plaza Principal; tour the Cathedral – the hemisphere's oldest. At the cooking school, you will meet local Maya women who will instruct you in the fine art of shaping tortillas. More cooking instruction will be followed by the comida fuerte (main meal of the day) in the elegant dining room.

Day 4 -Excursion to the charming colonial city of Izamál. Tour the monastery and church and enjoy a calesa (horse and buggy) ride through town, past the several large intact pyramids that remain of the ancient city. At Restaurante Kinich Kak-moo we will have a demonstration of traditional cooking then enjoy a typical Yucatecan feast. Dinner at popular Mérida restaurant.

Day 5 - Excursion to Hacienda Vista Alegre that produces the famous Yucatecan honey/anise liqueur Xtabentun as well as a variety of incredible rums. Transfer to the cooking school for another afternoon of cooking instruction.

Day 6 - An exotic excursion into the heart of Mayan Yucatán. Uxmal is considered the most beautiful of the Mayan archaeological zones. In the tiny pueblo of Santa Elena you will visit a typical Maya family. Lunch will be at the 5-star Hacienda Temozón where you will enjoy updated classics of Yucatecan fare. Dinner features the best in regional "fusion" cuisine.

Day 7 – check out and transfer to the airport.
Price includes: six nights accommodation; two day-trip excursions; city tour and morning excursion to distillery; three hands-on cooking classes; continental breakfast each morning of your stay; two additional meals per day; wine/beer service during the main meal at the cooking school one alcoholic beverage at all other meals; all transfers and entrance fees; all taxes and tips except as noted.
Price per person in a double room: $2995.00. Available year round based on request.
Call for dates
Follow our Culinary Traveler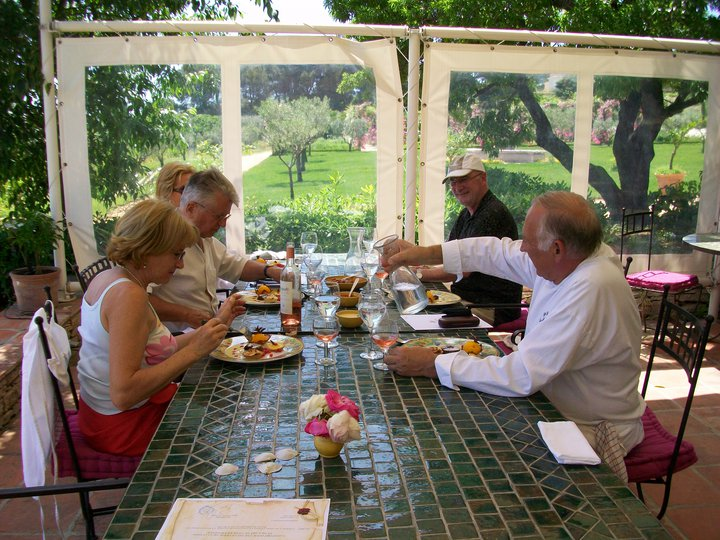 Call us at 800-264-0557